Most hand piece quilting is not meant for the sewing machine, it is done by hand and can take a long time to complete. Make sure you take the time to work on it as much as possible in order to keep your project moving along so that it eventually gets done. What's great about hand piecing is that it is an excellent way to keep practicing your sewing skills. The options are limitless for what designs, patterns and shapes you can hand piece when quilting. Here are a few tips and tricks to help you when hand piecing.
What Kind of Needle to Use 
It's important to pick out a good needle to use when hand piecing so that you can get a good hold of the fabric while also getting a good view. You want a needle that has a very fine eye and smaller shaft than normal. A good recommended needle for hand piecing quilting is normally a needle no. 9 or 10. Always make sure to use a thread color that matches the darker fabric that you are piecing together so that you don't see the stitches so easily when it is completed. However, simply choose what needle works best for you above all.
Threading the Needle
Sometimes threading your needle can be troublesome. What helps is to try holding the thread between your fingers and place the needle over the top instead. This is taking the needle to thread instead of taking the thread to the needle. Also try to double your thread to make it strong so that it doesn't fall apart as you make your stitches.
Piecing the Edges
Always make sure that your pieces on the outside of the edges are cut straight on the grain. For Triangles cut where the straight grain connects a bias edge allowing less stretching of the fabric to occur while hand piecing.
Templates or Paper Piecing
Using a template or paper piecing can also help you when hand piecing in order to keep your measurements exact and precise. Templates are great for measuring and then cutting your fabric to look exactly like the shape of the template and saves you some extra time.
Other Helpful Tips: 
Organize your pieces before beginning.
If you can't stitch in a straight line, pick an easier project.
You must make your cuts of pieces precisely.
Good hand piecing stitching means five to six stitches per inch per piece.
Where your stitching ended on one piece is where you will start when attaching another piece.
Sometimes the best way to hand piece quilt is develop your own way of doing it.
Hand Piecing Ideas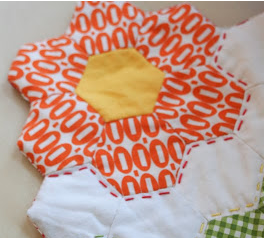 Share with us on our mobile app your favorite hand pieced quilt designs or any tips you find helpful when hand piecing! Make sure to increase your user interaction and comments in order to earn points and you may receive prizes every month such as a free pattern. Stay tuned next week for a blog post from Quilter's Thread for more information about this.
Live Well. Quilt Well.